Grandstand
Retractable grandstands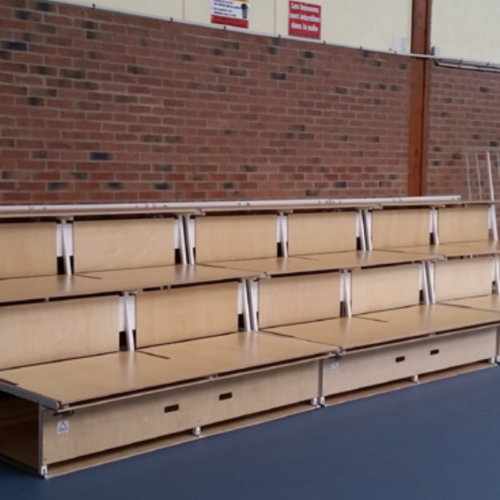 ASK FOR A QUOTE
Folding stands allow to optimise space in your facilities. The retractable grandstands provide a clever seat-stowing solution that seamlessly folds into the wall of a gym, multi-purpose hall or performance hall. These grandstands allow you to optimise space and modify your seating capacity. The gas springs allow for easy storage of all the units and […]
CARACTERISTICS
Material
Built with :
Thermo-lacquered steel frame, wooden seats and steps, wooden risers with multilayer varnished plywood.
As an option, railings can be integrated to the structure and automatically fitted.
White thermo-lacquered steel frame
Seats and flooring in 18 mm varnished plywood
Frontage in 9 mm plywood
Dimensions
Open depth : 192 cm
Front row heigh t: 120 cm
Folded height : 202 cm
Folded height with railing s: 271 cm
Folded grandstand thickness : 28 cm
STANDARD UNIT WIDTH 200 CM
More informations
Built on a frame.
The blocks fit into one another to minimise storage volume.
Available in mobile version.